Regular price
$127.14 AUD
Sale price
$89.00 AUD
Unit price
per
Sale
Sold out
My Blackout is an Australian-designed blackout blind that blocks 100% of light, ensuring you reclaim your sleep. Our blackout blinds are portable, eco-friendly and certified by OEKO-TEX®. These blinds can help with creating the ambiance for a good night's rest.
💤 Reduce sleep latency & increase sleep duration
☀️ Wake up feeling at peace and rested
🪟 Designed for standard Australian window size
🌿 Eco-friendly & OEKO® certified

Materials

100% OEKO-TEX® certified quality non-toxic and free from harmful substances
Super strong (extra strength) suction cups which are baby-friendly and BPA free
Insulated window blind to keep the cold out and heat in
100% UV protection
Dimensions

Each curtain measures 121cm x 200cm (1210mm x 2000mm). This is the equivalent of 1.21 meters in width and 2 meters in length.
Modular design that adjusts to fit different window sizes up to 121cm width.
Care Instructions

You can find all care instructions on the inner care tag My Blackout Blind, however standard care options for our My Blackout Blind are as follows:

Hand / machine wash using cold to warm water (40°c maximum is suggested) If machine washing, ensure a gentle cycle is selected
Use only very mild detergents (approved for wool/polyester)

Do not tumble dry avoid mixing with other colours

Do not iron If you really want to best preserve the woven fabric of the My Blackout Blind for as long as possible, we recommend hand washing it in cold water
View full details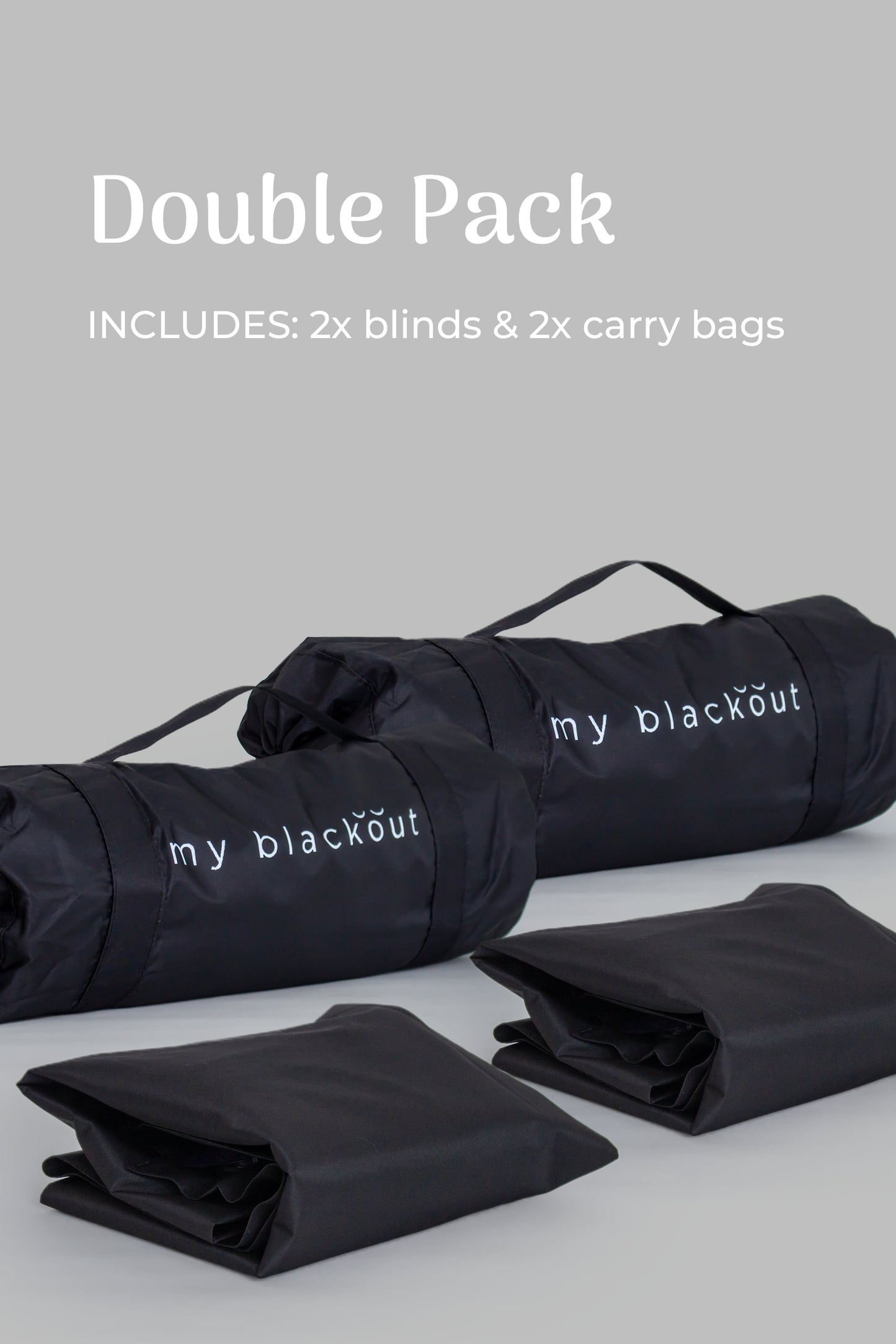 Let customers speak for us
Improve Sleep Hygiene

Keep the cold out, thermal insulated

Complete Darkness

Built for Australian Windows

Fast Free Shipping
My Blackout Blind vs. Other Blinds
No light will ever penetrate - tested on a 13Watt Max Led Light.
Lights out now!
The Perfect Solution
Whether you need total control of light for a bedroom, conference facility or home theatre room, My Blackout Blind eliminates gaps by seating the fabric within the side tracks, so there's no light leakage at the bottom or sides of the blind.
As Easy As 1,2,3
Step 1

Place suction cups around the perimeter of your window

Step 2

Improve stability with our velcro strips on window and blind

Step 3

Pack away the blind and take it with you!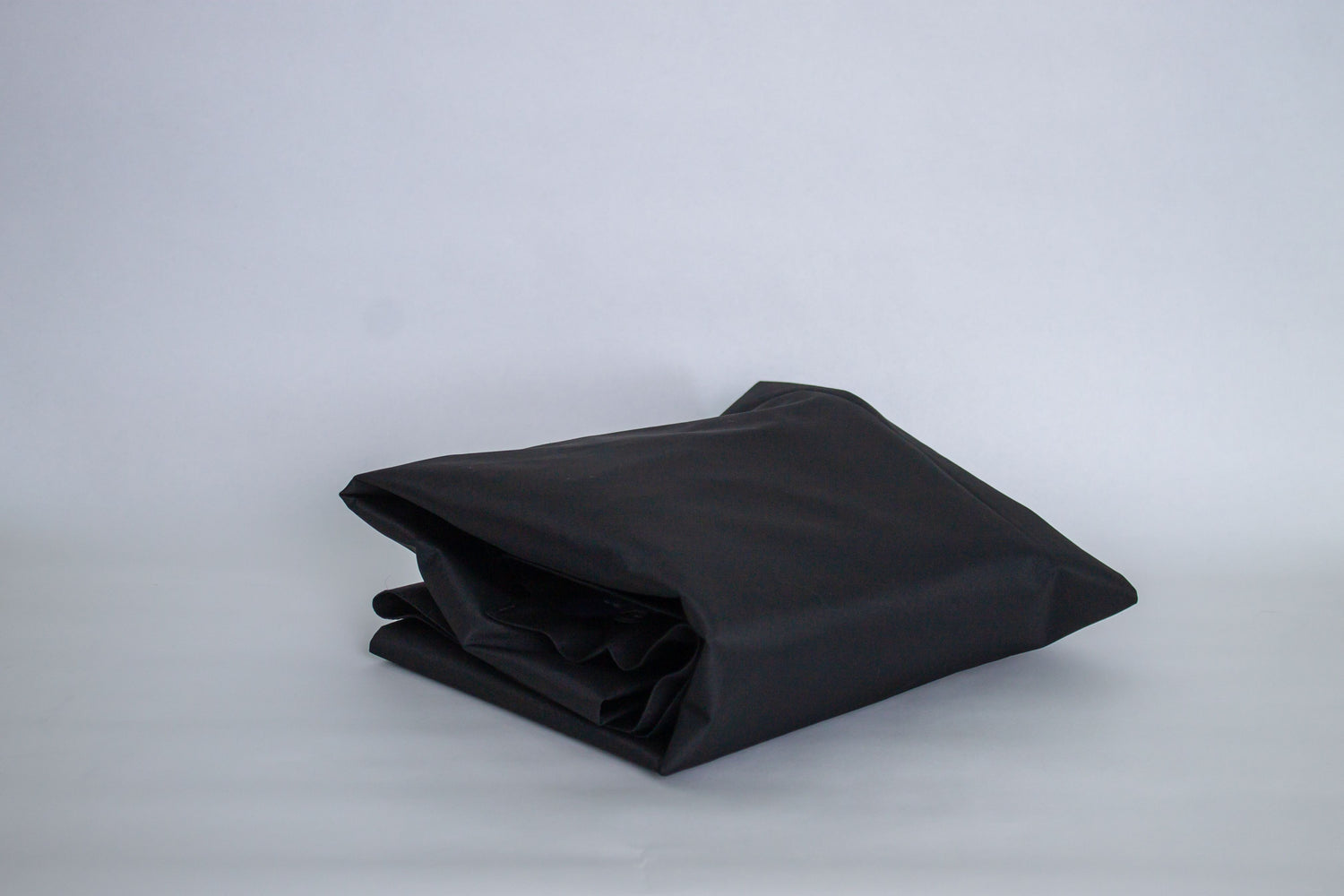 My Blackout vs. Other Blinds
MY BLACKOUT

Superior Quality, Even Better Performance

OEKO-TEX certified 100% blackout fabric

30-Second Install, Holds Strong

Innovative design that can darken a room in seconds

Blocks Light Bleeds, Easily

The product includes Velcro strips for extra adhesive support, effectively blocking light leaks on any surface.

DIY OPTIONS

"Everything Is Everywhere"

Blankets, tin foil, and cardboard. Difficult to stay up and light bleeds all over the place.

Tape, etc.

Duct tape and thumb tacks are not dependable.

Mileage May Vary

Difficult to block light bleeds with DIY solutions.

REGULAR BLACKOUT CURTAINS

Performance Varies

Quality varies significantly, most fabric that says "blackout" is actually 80-95% blackout.

Circumstantial

Dependable curtain rods need tools and are not renter friendly

Intended Light Bleeds

Typical curtain rods create light bleeds on the top and sides.
Level up your sleep
Eco friendly

OEKO-TEX® Approved. Super-strong woven fabrics and free from nasty chemicals

Fall asleep faster

Blocks out 100% of all light helping to get a good night's sleep

Our guarantee

100% money back guarantee
FAQ
How fast is the blind installation?

Takes less than 1 minute if you are attaching it to a flat window. Each My Blackout Blind also comes with super-grade velcro stickers for additional support for all types of window designs.
Will the blind block 100% of light?

When you have hung up the blind correctly, it will compeltely block 100% of the light.
Does the suction cup stick to all window surfaces?

Our suction cups are located on the perimeter of the blind. The stickness of the suction cup works on all flat window surfaces. It can be hard to stick our suction cups on an un-even surface, especially on heritage building windows which have etching, painted or embossed designs. 
Is the blind eco friendly?

Yes, we're OEKO-TEX® Approved. Super-strong woven fabrics and free from nasty chemicals. Our blinds to not release a chemical smell when the sun hits them as we use a high quality polyester fabric.
What is approx shipping time?

Australia Post quotes us 2-8 business days for this delivery service after your order has been picked and packed. It can be faster 1-2 business days if you use express shipping.
Recommend for anyone who needs a temporary blind
The suction cup on the blind is super useful for my new home while I wait for my shutters to be installed. The blind itself is super high quality and blocks out sunlight completely.
Very happy with the product and would recommend to anyone who is looking for a temporary blind solution😄
Simple But Effective
Constantly waking up early due to the sun sneaking in from the sides of my block out roller blind.
This idea is simply genesis. Easy to put up and take down when necessary. My bedroom is in complete darkness and cooler.
Definitely worth the purchase for a better nights sleep.
Perfect but I wish it was longer
The black out curtain was a game changer. Hubby and I sleep a lot better especially because it's now day light savings. My only complaint is I wish it was longer and/or an option to cut it or order custom lengths.
Perfect when you rent
This was the perfect option for me as I am renting and can take it with me when I leave. Very easy to install and has made a huge difference to the early morning light that used to flood my room, now I can sleep in :)
Improve your sleep to improve your health!
As a clinical naturopath I see a huge difference to my clients health when we implement the correct sleep/wake cycle into their routine and this product has made that so much easier!
A lot more people today live in cities where there is a lot of light pollution whether that's from street lighting, the house next door, or cars driving past at night.
Having a product like this eliminates the need for any disruption to our sleep cycle caused by bright lights, allowing you to go into a deeper sleep state and wake up the next morning feeling more energised and motivated than before!