Regular price
$61.41 AUD
Sale price
$42.99 AUD
Unit price
per
Sale
Sold out
Our luxurious Sleep Mask, made with memory foam, blocks out 100% light to provide complete darkness and a quality night's rest. The lightweight and comfortable design offers the perfect solution for light sensitivity, ensuring uninterrupted sleep without compromising your comfort.
Materials

The outer layer of our sleep mask is crafted from premium quality polyester fabric, while the filling is made up of slow-rebound memory foam, ensuring maximum comfort and durability.
Care Instructions

Use cold water for machine delicate wash or hand wash
Use pH neutral detergent
Avoid bleach, tumble dry, or dry cleaner
Dimensions

Product Weight: 45g
Size: 7 × 22 × 1cm
View full details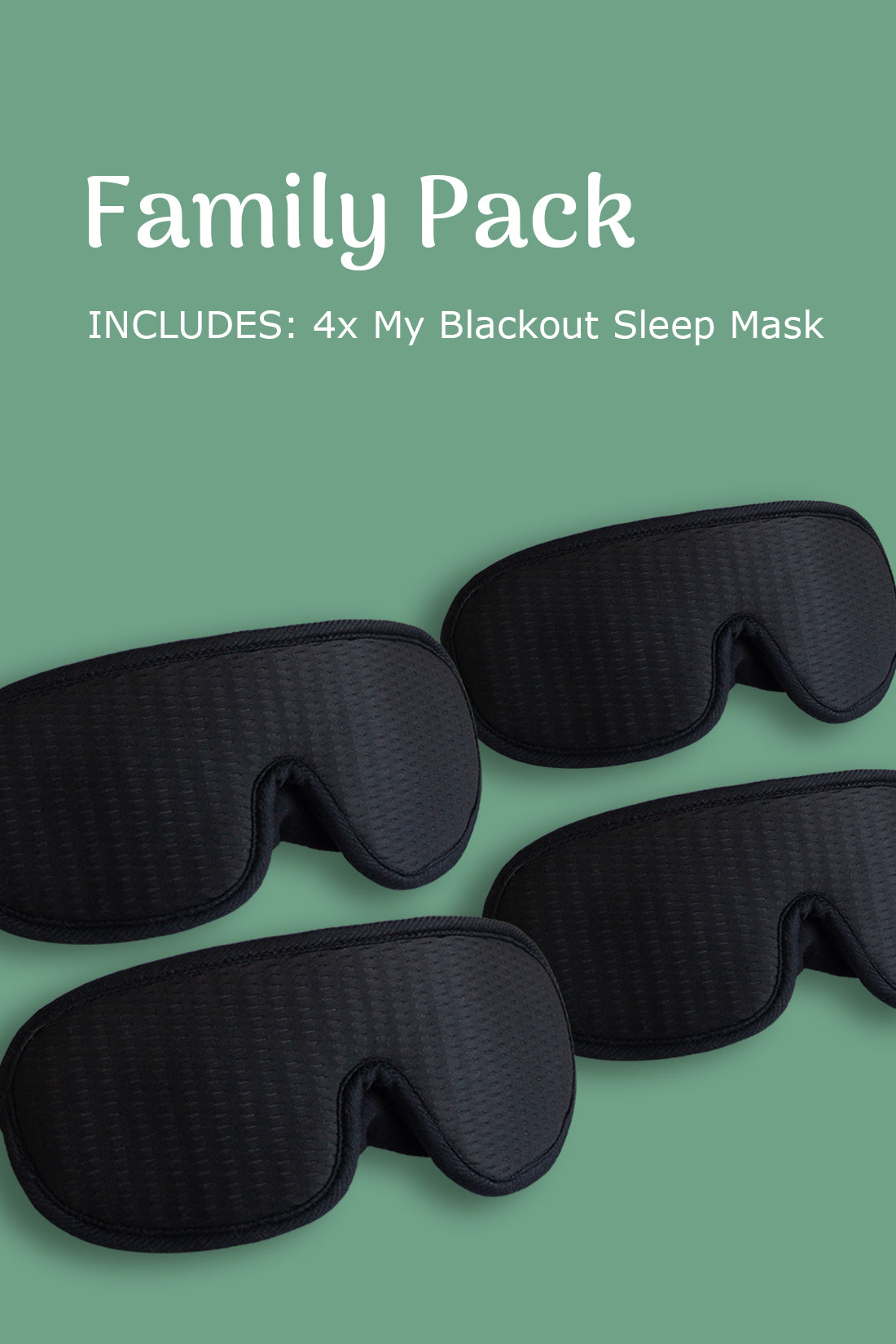 Maximum Comfort
Introducing My Blackout Sleep Mask - the ultimate solution for peaceful sleep! Its cut-out eyecups and specially designed nose pad ensure 100% light blocking and maximum comfort. The high-quality fabric is breathable, and adjustable straps fit all faces and heads. Voted the best in the market, our My Blackout Sleep Mask is perfect for meditation and travel too. It's easy to wash and reuse for restful sleep every night. Get your My Blackout Sleep Mask now and experience the ultimate comfort and darkness for uninterrupted sleep!
Let customers speak for us
Silky Soft Memory Foam

Adjustable Straps

Blocks 100% of Light

No Eye Pressure

Fast Free Shipping
My Blackout Sleep Mask Vs. Generic Sleep Masks
| | My Blackout Sleep Mask | Generic Sleep Mask |
| --- | --- | --- |
| Blocks 100% of light | | |
| Padded for comfort | | |
| Fits to your nose | | |
| Adjustable straps | | |
| Machine washable | | |
| Silky soft | | |
Improve your Self-Care Routine
A sleep mask infused with memory foam can be a game-changer for achieving a restful sleep. Our memory foam molds to the shape of your face, providing a customised, comfortable fit that blocks out any light. This complete darkness helps signal the body to initiate sleep, leading to faster and longer-lasting slumber. Not only can a memory foam sleep mask help regulate natural sleep cycles, but it can also be a great solution for individuals with light sensitivity or those who work night shifts and need to sleep during the day.

Not only do sleep masks improve the quality of your sleep, but they also provide a sense of comfort and relaxation. By blocking out all light, you can create a peaceful and serene environment that's conducive to sleep. The right sleep mask can also be a useful tool for travelers who need to rest on long flights or in unfamiliar hotel rooms. With the right sleep mask, you can improve your sleep quality and wake up feeling refreshed and ready to take on the day.
Level up your sleep
Eco friendly

Luxurious silky feel for ultimate relaxation

Breathable fabric

Ample airflow, ensuring a comfortable and breathable fit

Our guarantee

100% money back guarantee
FAQ
What materials are used in the sleep mask?

Our sleep mask is made from a combination of soft and breathable materials, including an outer layer of polyester fabric and slow rebound memory foam filling, providing optimal comfort during sleep.
How can I ensure the proper fit of the eye mask?

To ensure a proper fit, the eye mask usually comes with adjustable straps that can be easily customised to fit your head size and shape. Simply adjust the straps to a comfortable and secure position to ensure the eye mask stays in place throughout the night.
How does the sleep mask provide complete blackout?

Our sleep mask is designed with a contoured shape and a snug fit to create a barrier between your eyes and any incoming light, effectively blocking out light sources and providing a complete blackout experience.
Can the sleep mask be machine washed?

Yes, the sleep mask can be machine washed or hand washed using cold water and a pH neutral detergent. It is important to avoid using bleach, tumble drying, or dry cleaning the mask to ensure its longevity and quality.
Are eye masks beneficial for sleep?

Yes, our eye masks can be beneficial for sleep. They create a dark environment that promotes better sleep quality by blocking out light, which can help regulate your sleep-wake cycle and improve overall sleep duration and quality.
How often should I clean my eye mask?

It is recommended to clean your eye mask regularly to maintain hygiene. We recommend you hand wash or machine wash the eye mask every few weeks or as needed.
How long does it take to adjust to an eye mask?

The adjustment period for our eye mask can vary from person to person. Some individuals may adapt quickly and find immediate comfort, while others may take a few nights to get used to the sensation of wearing an eye mask during sleep. Generally, it may take a few nights to a week to fully adjust and experience the full benefits of using an eye mask.
What is approx shipping time?

Australia Post quotes us 2-8 business days for this delivery service after your order has been picked and packed.
Great - comfy and does the job well
I also like that it has space for the eyes so they're not squashed!
Great little mask. (And I am picky.)
BEST SLEEP MASK EVER
My wife loves this sleep mask, she goes on and on that it's the best ever!!
True Darkness
It has been a delight to be able to sleep in a beautifully dark room and the sleep mask helps with concentration whilst doing my meditations
Improved my total sleep time by a significant by an average 1+ hour consistently each night
Improved my sleep quality and duration I have been using an Oura sleep tracking ring to monitor my sleep quality and duration for a while. Before using this sleep mask, I used to sleep for an average of 6 hours and 20 minutes per night. However, after using it, I noticed a significant improvement in my sleep. My average sleep time increased to 7 hours and 20 minutes per night, and I even had some nights where I slept for 8 hours and 20 minutes. This sleep mask has been a great addition to my sleep routine, as it effectively blocks out any light that might disrupt my sleep and cause me to wake up earlier than I want to. I would highly recommend this sleep mask to anyone who struggles with light pollution and wants to improve their sleep quality and duration
"I love how adjustable this mask is. It fits perfectly and stays in place."